JOAN K. DAVIDSON, THE J.M. KAPLAN FUND, AND THE FIGHT FOR A BETTER NEW YORK
BY ROBERTA BRANDES GRATZ
The story of Joan K. Davidson and the J.M. Kaplan Fund, New York's hidden benefactors.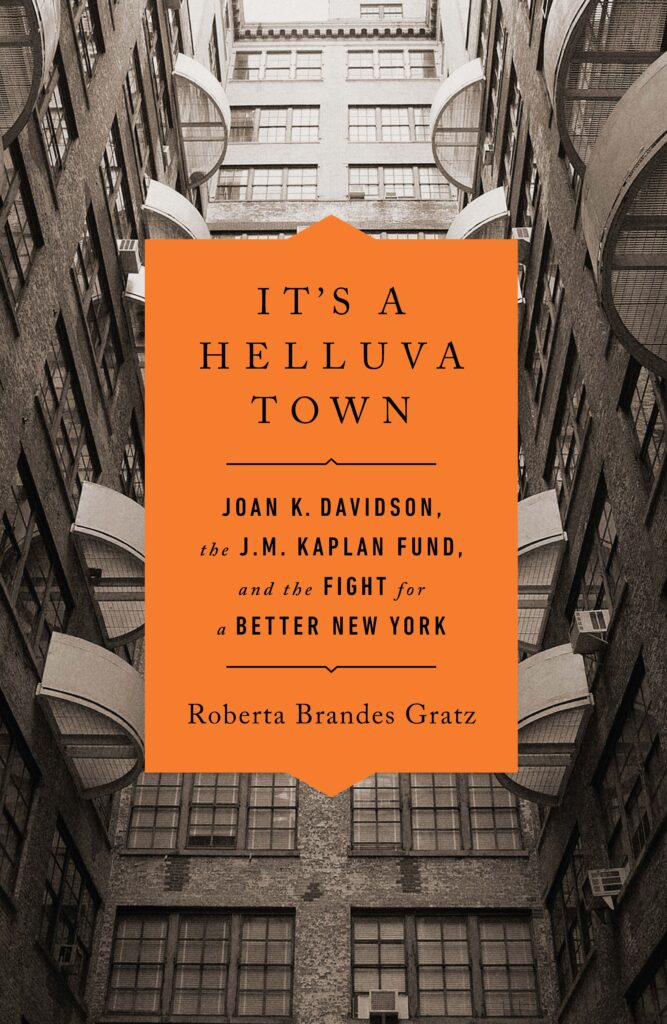 Available at Strand Bookstore
Praise for It's A Helluva Town:
"The J.M. Kaplan Fund has brought about remarkable progress in safeguarding the environment, advancing historic preservation, protecting civil liberties, and publishing in the public interest; at the center of all this good work for decades has been Joan Davidson – a trail-blazer in these areas and a graceful American hero."
-JOHN H. ADAMS, Founding Director, Natural Resources Defense Council
"The J.M. Kaplan Fund is small as foundations go, but its impact has been enormous—I think of it as Archimedes' lever, sufficient to move the world if positioned the right way… If it had only saved Carnegie Hall and built the Westbeth artists' housing complex, its position in the history of New York City would be significant. Roberta Gratz's history shows us that those great urban victories are but the most visible of the Kaplan Fund's many achievements."
-PAUL GOLDBERGER, architecture critic and author Why Architecture Matters
"By funding great ideas – and fighting for them – the Kaplan Fund for 75 years has supported urban transformations that stretch from Times Square across New York and beyond. Today, mayors from around the world tell me they want to replicate the programs and the vision that the Kaplans have helped support."
– JANETTE SADIK-KHAN, Principle, Bloomberg Associates, and
former Commissioner, NYC Department of Transportation
"In Roberta Gratz's exhilarating account, the stewards of the family-run Kaplan Fund emerge as modern-day Medicis: patrons of the arts and artists, defenders of the natural and built environments… In the course of half a century they have raised activist philanthropy to a fine art."
-JOHN BERENDT, author of Midnight in the Garden of Good and Evil
"Scratch the surface of so many of the initiatives and ideas that have made New York a better place to live and work and you'll find the deft hand of the J.M. Kaplan Fund… New York owes much to a wise, energetic, and committed woman, in this case the Fund's indomitable leader for many if its seventy-five years, Joan K. Davidson."
-DARREN WALKER, president, Ford Foundation
Written by award-winning journalist Roberta Gratz, the book chronicles the contributions to New York's civic and cultural landscape made by Joan K. Davidson and the J. M. Kaplan Fund. 
To listen to the WBAI interview with Roberta Gratz, click here.
To view the press release for It's A Helluva Town, click here.
To watch HDC's virtual book talk event with Roberta Gratz and Anthony C. Wood, click here.
Contact for media and review copies:
Jack Carlile
jcarlile@jmkfund.org 
212-767-0630