In Remembrance
May 26, 1927 – August 11, 2023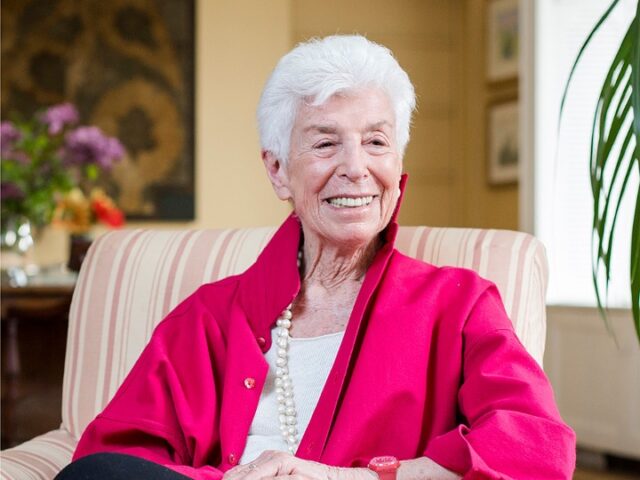 Patriot and native of New York City and State, Joan K. Davidson long worked for, supported, guided and in some cases helped found non-profit and government programs for the betterment of the natural and built environments of both urban and rural places; for the arts; and for civil liberties and social justice.
Her government service began in Washington DC, in the 1950s, as a staffer on the Senate Armed Services Preparedness Committee under Senate Majority Leader Lyndon B. Johnson; continued on various public commissions in Portland, Oregon where she moved to as a young bride, then in Wrangell, Alaska, and years later in Albany at the New York State Council on the Arts (as Chair), the New York State Office of Parks Recreation and Historic Preservation (as Commissioner), and Hudson-Fulton-Champlain Quadricentennial Commission (as Chair). Earlier she had run for the New York State Senate as the Democratic candidate from the Upper East Side.
From 1977 to 1993, Joan Davidson was president of the J. M. Kaplan Fund.  The Davidson presidency saw the early advocacy – and mostly sustained support for Westbeth, Greenmarkets, South Street Seaport, Urban Center Books at the Municipal Art Society, programs of Natural Resource Defense Council, Human Rights Watch; The Nature Conservancy, parks and land conservancies, Sacred Sites and Properties Fund of the New York Landmarks Conservancy, Preservation League of New York State, renovation of the Mayor's House Gracie Mansion; Clothing Bank/New Clothes for the Homeless, the New York Cares Annual Coat Drive; Rural New York.  The Fund provided a range of assistance to rural, small town undertakings, and to branch libraries, an inner-city greening program, one campaign to save the City's pristine water supply and another to bring public toilets to the streets of New York. As president emeritus, she continued to advocate for the architecture, design, and quality of life of New York City.
In 1995, Joan Davidson founded Furthermore grants in publishing as a publication program of the J. M. Kaplan Fund. Furthermore supports publication of nonfiction books that concern the arts, history, and the natural and built environment. Since its inception, the program has assisted more than 1,400 books with grants that total over $8 million.
In addition to her leadership of Furthermore, in 2013 Joan founded the Alice Award, an annual prize for illustrated books, and in 2022 she instituted the Carriage House events program at Midwood, her property in the Hudson River Valley
Joan Davidson was educated at Cornell University and the Bank Street School. She lived in Manhattan and the Hudson Valley with many of her twelve grandchildren and five great-grandchildren in residence nearby.
New York Times
The New York Landmarks Conservancy
The New York Daily News
WAMC Northeast Public Radio
WAMC Midday Magazine by Jesse King
WAMC Midday Magazine by Ralph Gardner Jr.
Art Daily
The New York State Council on the Arts
American Federation of Arts
Orchestra of St. Luke's
The Upstater
The Olana Partnership
Preservation League of New York State
The New York Landmarks Conservancy
CIVITAS
Natural Resources Defense Council
NRDC – An Appreciation
Arch Paper
Architectural Record
World Monuments Fund
Municipal Arts Society
The Magazine Antiques
Friends of the Upper East Side