In Remembrance
December 23, 1891 – July 18, 1987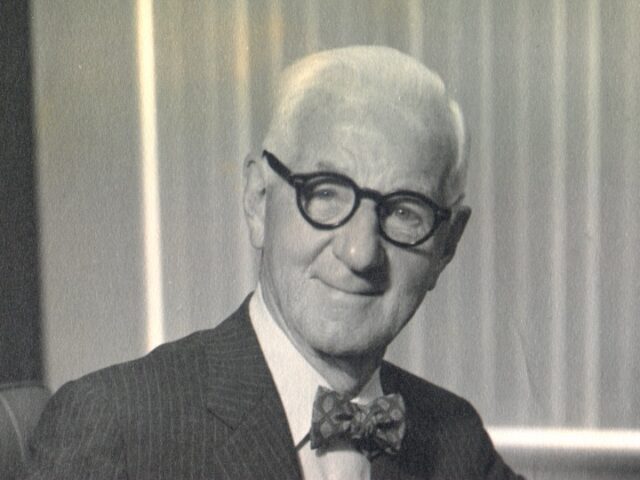 Jacob Merrill Kaplan, a merchant and self-made financier who shared his wealth to become one of New York's foremost philanthropists, with beneficiaries ranging the gamut of worthy causes, died Saturday at his Manhattan home. He was 95 years old and also kept a home in East Hampton, L.I.
Mr. Kaplan left school when he was 16 years old and spent two decades making money in the molasses trade. But much of his wealth derived from the Welch Grape Juice Company, which he reorganized and headed from the early 1940's to 1958.
In 1947 he established his philanthropy, the J. M. Kaplan Fund, whose inventiveness and diversity became its hallmarks. It also won recognition as a consistent supporter of the arts, civil liberties, human rights and the NAACP Legal Defense and Education Fund.
Its donations could be a few thousand dollars "seed money" to encourage composers to encourage musicians to commission works from composers of their choice or to help the New York Botanical Garden save from extinction a grove of virgin hemlock along the Bronx River Gorge. Aid to Long List of Projects More visibly, money was funneled to beautify city parks, establish a Mobilization for Youth program on the lower East Side, help rescue Carnegie Hall from the wrecker's ball in the 1960's or start work on South Street Seaport. Grants totaling several million dollars annually flowed the year round, and a good deal of it went to projects nourished by a long roster of institutions.
These included the Municipal Art Society and Parks Council, the New York Landmarks Conservancy, the Natural Resources Defense Council, the South Bronx 2000 Local Development Corporation, the Fund for Free Expression and the Straphangers.
In addition, the Kaplan Fund helped provide money to begin the Westbeth artists' housing, the 42d Local Development Corporation, the New School's Center for New York City Affairs, the Eldrich Street synagogue, the Coalition for the Homeless, the Chips Center for women and children in Brooklyn, nonprofit bookstores and new rehearsal and recital space at Carnegie Hall.
It helped the foes of Westway defeat the project and channel Federal dollars into the bus and subway system. It encouraged programs to preserve and rebuild neighborhoods, reclaim the waterfront for recreation, foster greenmarkets and similar urban amenities, and help the helpless whether they were mistreated children, the elderly poor or victims of political persecution abroad. Cooperative Housing for Elderly
As a nonagenarian, Mr. Kaplan let his daughter, Joan K. Davidson, run the fund as its president. But he kept an active interest and continued to be seen – white-haired, erect and wearing his usual bow tie – walking the city he'd been in love with for more than 60 years. Mornings, he would set out at a sprightly pace from his Park Avenue residence, stopping at times for a bargain breakfast in the General Motors Building, to reach the fund's office on Madison Avenue at 34th Street.
Among his more recent ventures was a $1 million gift to start up a Kaplan Cooperative Fund to promote cooperative housing for the elderly. The conduits were to be groups around the country that found it difficult to obtain government funds or bank loans.
Also, having summered in East Hampton for many years, he watched wealth taking over the town and decided that the town needed more of a social mix. He provided for a matching grant for low-income housing, East Hampton raised its share, and the buildings began to go up in the early 1980's.
Born Dec. 23, 1891, in Lowell, Mass., Mr. Kaplan was an enthusiastic supporter of cooperatives all his life. He grew up poor, attending public schools near Boston and peddling soap in the streets to help feed the family. Then he left Massachusetts and spent 10 years in the sugar-producing countries of Latin America. Headed Molasses Company
He organized sugar planters as early as 1910. Thirty years later, he taught the wisdom of cooperative production to grape growers. Speaking of his hopes for housing cooperatives for the elderly in 1986, he said: "If they are efficient, there's no reason it cannot work. I'll help."
Mr. Kaplan started his business career with the Oldetyme Molasses Company in 1920, served as president when it merged into Dunbar Molasses, of which he again was president until it was sold in 1928. Before moving on to Welch Grape Juice, he engaged in a number of other financial ventures, serving, among other things, as president and chairman of Hearn Department Stores from 1932 to 1936.
He was a trustee of Freedom House and past chairman of the board of trustees of the New School, which renamed its urban-studies institute in his honor on the occasion of his 90th birthday.
Mr. Kaplan is survived by his wife of 61 years, Alice Manheim Kaplan, one of the city's leading art patrons; three daughters, Mrs. Davidson, of Manhattan and Germantown, N.Y., Elizabeth K. Fonseca of Manhattan and East Hampton, L.I., and Mary Ellen Kaplan of Manhattan; a son, Richard D. of Manhattan and Palm Beach, Fla. – all of whom are trustees of the Kaplan Fund – and eight grandchildren and four great-grandchildren.