New York, NY (November 14th, 2017) – 75 guests gathered at The J.M. Kaplan Fund office in mid-November for a reception featuring Christopher Brown, Founder and President of the Washington State-based Growing Veterans. The evening focused on Chris' own path to farming as a means of managing PTSD and how this experience evolved into the idea of addressing veteran isolation more broadly through sustainable agriculture. Chris, in conversation with Anthony C. Wood of the Ittleson Foundation, reflected on the merits of dirt therapy and how Growing Veterans uses farming as a vehicle for encouraging peer support and breaking the stigma of counseling.
A Purple Heart recipient, Chris is a veteran of the 2nd Battalion, 7th Marine Regiment which was featured in the New York Times for the unit's staggeringly high suicide rate. In 2015, Chris' work was selected among just 10 projects out of nearly 1,200 to receive The J.M.K. Innovation Prize.
The evening was emotionally moving and educational – we're grateful to all who attended.
To learn more about this work, visit the Growing Veterans website: https://growingveterans.org/.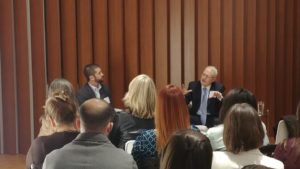 Anthony C. Wood, Executive Director of the Ittleson Foundation, engages in conversation with Christopher Brown.

Guests at The J.M.K. Fund office listen intently to the conversation.